Yes you can. In fact we are looking for long term relationships with major integrators and wholesale distributors – if you feel your market offer is not complete without masts and towers, contact us quickly. There are discounts for resellers (based on sales volume declared) and flexible agreements.
On the other hand if you do not want to bother talking to us, because you are unsure about this mast business – every piece of information is for you on this webpage. You may repost, link, copy and put our photos and specifications into your online shop without asking.  We can even help you in converting our catalogue into your online offer with some additional graphics, hi-res photos, product photos ect.
If you feel our product line is incomplete – we can add custom products  – just tell us what you may need.
We do the drop shipments. Just remember in such case you must transfer the full payment before dispatch. Seconly, remember about transportation costs (down this FAQ), and finally let some production time. In most cases 2 weeks for towers over 24 meters, 1 week under 24 meters, 3 days for masts under 25 meters.
Yea, our static engineer can prepare projects and calculations both in German and/or English plus we can comply with all European so called "National Annexes". We do posses most of the country specific norms, but if we do not, and you do – we will work on your set of documents (verify copyright before sharing).
If you are not familiar with Eurocode idea  – we can work with your design/engineering office, or legal office that handles the paperwor for you. Here are some basic facts about Eurocode
We are production company at first, so we seek for local resellers. This strategy is due to cost of transportation that is quite good if we ship many items at one time, and may be a problem when we send You just eg. one ballast mast. But yes, we do sell small quantities and single copies through the whole Europe. In some markets our base prices are so attractive that even relatively high transportation cost lets us keep our competitive edge.
1. Small items (less than 2 meters in lenght, less than 15 kgs in weight)  are  sent with UPS or DPD services (depending who ofers best deal on certain shipment). Standard cost for one 2 meters section of M400 mast is around 55 Euros to most locations. Brackets, anetna holders and small accessories are normally 15-20 Euros.
2. Mid sized loads are shipped via online dispatch markets (that match loads with free spaces in participating trucks). We use for that Timo.com, Clicktrans.pl and many others. Usually it is around 200 – 300 Euros for a M400-20 mast or T500-16 tower. It varies on occasion and destination (popular ones get better deals)
3. Big loads (10-30 M400-16 masts) are shipped either by our own Van (we have VW Crafters 19 cubic meters + trailer that doubles the load) or by rented lorry (108 cubic meters or more). Our own transport costs around 0,6 Euro one way (Warsaw to your destination) and we can then install the product at your site. Lorry is around 1-1,20 Euros
Time: It usually takes 3-4 days to catch a good deal for dispatch. If time matters then we suggest Altruss VAN option.
Yes we can. Please visit our "Certification" tab to read details and see copies of documentation.
We provide each and every avliable proof of welding and production quality. We closely work on this with our partner company Rolstal that handles parts of our controlled quality production.
Definitely yes. We are all EU now – so export/import is easier than ever. No VAT in export,  unified invoices, PayPal or SWIFT payments mean we can exchange cash for goods as quickly and comfortably as in our local grocery market. Never tried to import? Now it's a good time!
Altruss speaks English, Russian, Polish, German – so there is big chance we will not be lost in translation. Okay you do not feel comfortably to speak English (I know you French people 😉 then still we do have google translate. In extreme situation we can hire an interpreter of your language. Why not? Just let us know.
Altruss and prviously Alupro has 8 years of experience in export to most of european markets. Our towers/masts work in Germany, Austria, France, Spain, Slovakia, Czech Republic, Sweden, Norway. Most of our clients stay with us for next/future projects.
We do static calculations in accordance to Eurocode and its local extension (annexes). So you may get all the paperwork tailor cut to your market reality.
If product certification is needed: we work with our partner company Rolstal to provide any possible proof of quality including set of TUV, GSI-SLV, marine certificates. Most important we comply with ISO 3834 and ISO 1090 norms. Is your legislation still not happy? We can do bolted version of what you need, so no certification beyond "CE" declaration shall be needed.
We work 7:00 AM untill 20:PM CET – uder e-mail, Skype and phone, so It shall be not a problem to get answers from us.
Okay how about installation and transportation? Small quantities, single units are sent with courier services or through online dispatch markets (like Timo.com). Bigger loads get dedicated transportation from us (we take care of everything). If needed our company team can come and do the installation for you guys anywhere in Europe.
In general it is advised to build masts symetrically – for 3 cornered trunks it would be 120 degrees each. Anchors sholud not be closer to the mast than half of its height. For example for a 50 meters high mast, anchors must be at least 25 meters apart from its axis.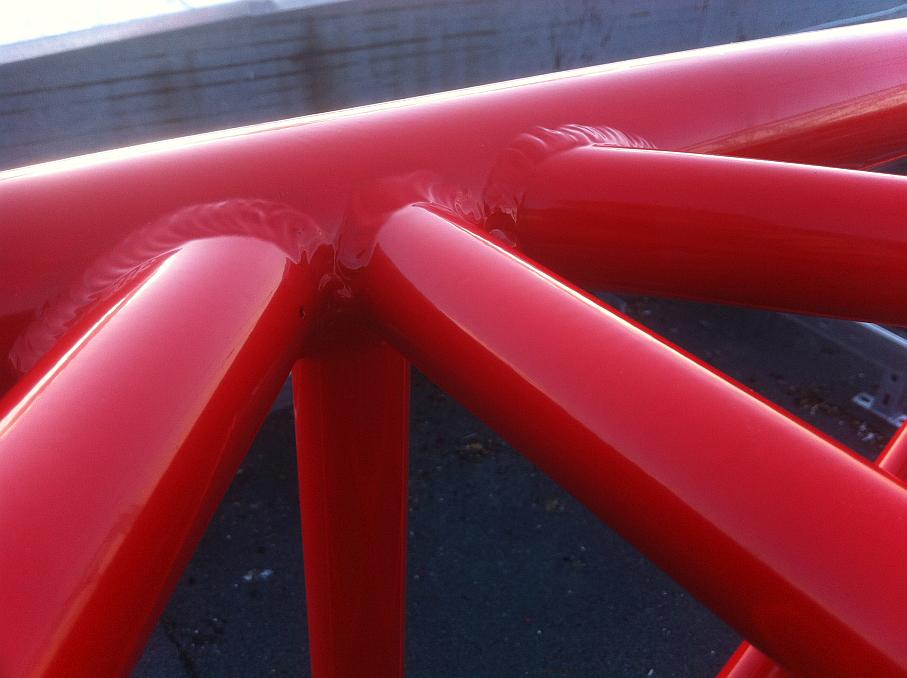 Telecommunication mast, as each truss construction has nodes, that are the most robust places in the whole structure.  Every force we use on the mast shall concentrate around these nodes, no matter if during building or choosing a place for guy wire mounting points or finally when mounting antennas. The node is a place where cross members meet on the corner pipe.
The main reason to use separation crown is to separate antennas from each other accordingly to producer specifications. Antennas have backward radiation that may lead to interference and high noise bed. Because electromagnetic radiation force decreases with the square of the distance, even small separation is sufficient to improve the situation.
Second task of a separation crown is increasing the mast torsional stiffness (with additional set of guy wires). Truss masts are quite robust for vertical forces (inherit feature of a truss), average for horizontal forces (thanks to guy wires), and relatively non resistant for torsional forces (hence idea to help here). Twisting is most problematic during high winds and service jobs. This is especially problematic for radiolink, because it may interfere with or even break connection.
Welding quality is a key to safe product in mast business – and we are serious about this. In Altruss we do weld only in TIG process and with best possible equipment by Fronius and Kemppi. On top of this we use certified rods by ESAB to all sensitive works and AirLiquide argon gas in 5th grade of purity. All welders are well trained, and their job is randomly checked, plus samples are destroyed to see if the weld had right amount of penetration.
Alternative to the TIG process is MIG – which is quicker, needs less qualifications, easier to master – but controll over weld penetration is inferior. In Altruss we use MIG process only for steel where above problems do not occur.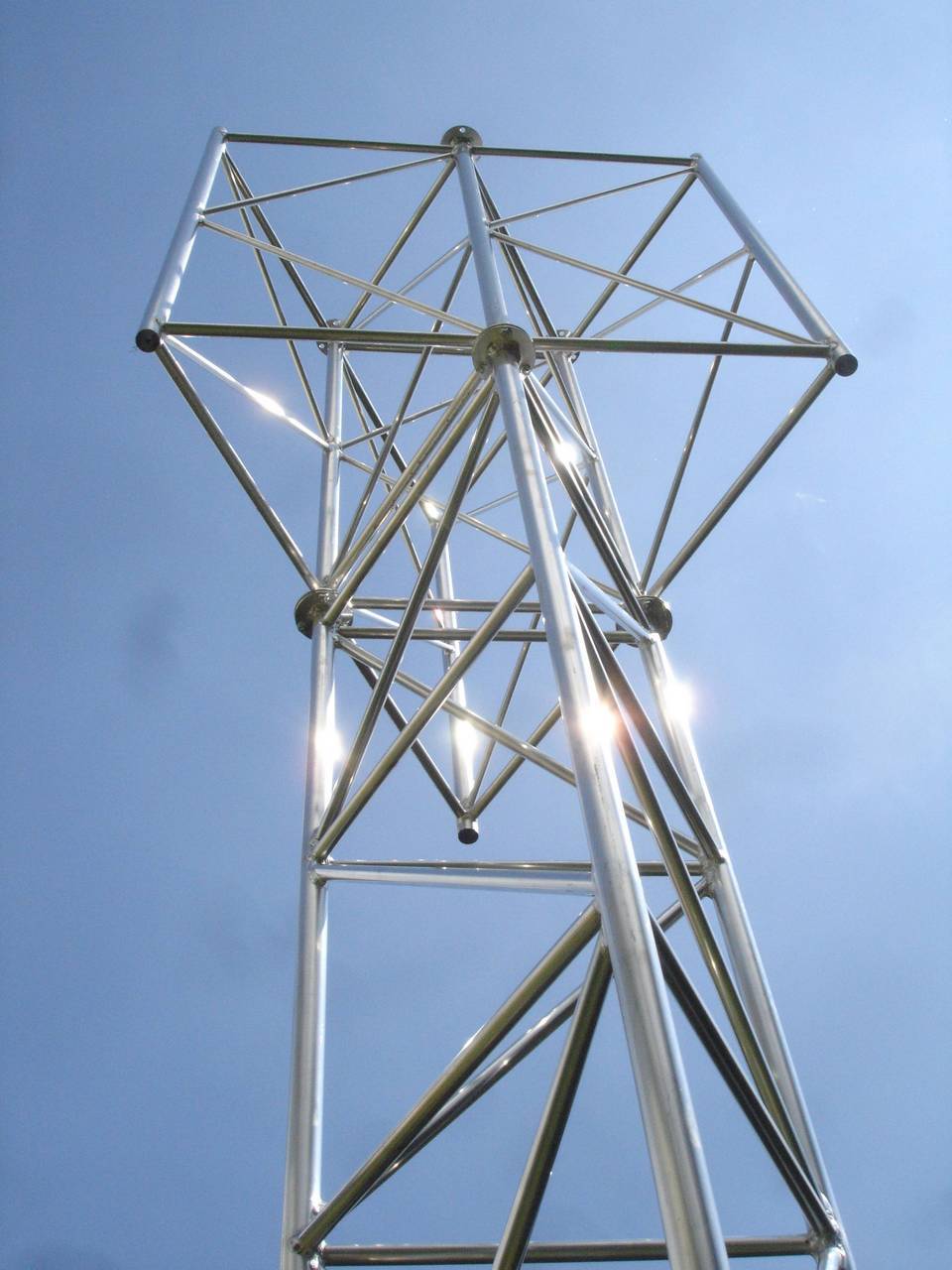 Well in most cases stiff mast is a good mast, this is one of quality factors. Cheaply built masts are rarely stiff. Stiffness is mostly important for radiolink communication and satellite dishes (form of radiolink in fact) – where power beam is narrow and focused. Imagine a laser pointer that is aimed at a tower clock from outskirts of your city. Not easy to keep it steady pointed directly on the clock face… but fix it to the building and the beam will be glued to the point miles away.
In most countries masts are created to allow max deviation of 1:100 of its height. For 30 meters mast it is max 30 cm at the top! I would not call it a little, that's couple hundred meters over 10 km. One of the cheapest ways to improve this is to top the mast with separation crown with additional set of guy wires.
Stiff masts are also nicer to service (you simply feel safer on one)